See on Scoop.it – Surfing Big Data!!!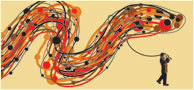 Companies are learning to use large-scale data gathering and analytics to shape strategy. Their experiences highlight the
principles—and potential—of big data. A McKinsey Quarterly Strategy article.
Large-scale data gathering and analytics are quickly becoming a new frontier of competitive differentiation. While the moves of companies such as Amazon.com, Google, and Netflix grab the headlines in this space, other companies are quietly making progress.
In fact, companies in industries ranging from pharmaceuticals to retailing to telecommunications to insurance have begun moving forward with big data strategies in recent months. Together, the activities of those companies illustrate novel strategic approaches to big data and shed light on the challenges CEOs and other senior executives face as they work to shatter the organizational inertia that can prevent big data initiatives from taking root. From these experiences, we have distilled four principles that we hope will help CEOs and other corporate leaders as they try to seize the potential of big data.
See on www.mckinseyquarterly.com